ISSANI MEDITATION & RELAXATION RETREATS
Learn simple techniques to Relax, Release & Meditate in a safe beautiful sanctuary in the Daintree rainforest.
Issani Meditation & Relaxation Retreats pair deeply relaxing body release techniques with simple body – breath meditation.
Your retreat guide, Issani, applies Ayurvedic principles to create a unique relaxation and meditation retreat program. Combined with delicious and healthy Ayurvedic food served throughout the retreat, this is truly a unique and highly relaxing retreat where you will leave feeling deeply calm and at ease.
All taking place at Noah Creek Reserve, an idyllic peaceful environment deep in the heart of the World Heritage Daintree Rainforest.
Suitable for those who are new to meditation and for experienced meditators.
Meditation and Relaxation Retreat in the Daintree Rainforest
The retreat sessions are divided into 20 minute segments where you can choose either ISSANI Relax & Release or Meditation techniques.
Each participant has their own mat and meditation seat, or chair if needed to switch from lying down for Relax & Release Techniques, to sitting for Meditation technique.
More experienced meditators may like to spend more time meditating and newer meditators are advised to spend more time with the body techniques, slowly increasing the meditation time with guidance from Issani.
Lying on a comfortable mat, with eyes closed, these simple, gentle techniques can be done by anyone and incorporated into your daily self-care.
Simple myo-fascial techniques to release the connective tissues are combined with very subtle, gentle body movements and gentle "holds", which allow the body to release into gravity with no pushing, no pressure exerted.
Apart from the physical benefits of increased flexibility and suppleness in the body tissues, we are simply witnessing and letting the practice happen. This practice flows into daily life benefiting our physical, mental and emotional health.
Being present with body awareness creates a safe, grounded foundation for seated meditation.
Sitting comfortably on your preferred meditation cushion, seat or chair we simply focus on the natural breath, the sensations in the body and the sounds around us, in this case, sounds from the rainforest. Immediate sensations naturally bring us into the present moment.
$550 per person
+ accommodation cost.
3 full days – 4 nights – 5 days.
Minumum 6 – Maximum 9 people.
2:30pm
Meet and greet. Gather for afternoon snacks and drinks.
3:30pm
Group discussion: housekeeping, Q &A, retreat etiquette, about the techniques.
4pm
Issani Body Release Techniques session, with guidance and some demonstration by Issani | instruction on coming out of the techniques safely
5pm
Yoga Nidra
6 – 7:30pm
Free time | Dinner

Goodnight
6 – 7:20
Relax & Release – Meditation – Relax & Release
7:20 – 8:20
Breakfast | demonstrate and practice walking meditation
8:20 – 9:20
Relax & Release – Meditation
9:20 – 10.
Morning tea
10 – 10:40
Group discussion q & a 
10:40 – 12
Relax – Release & Meditation with 20 minute gong
12 – 2
free time, lunch
2 – 3
Relax & Release – Meditation with 20 minute gong | Private interviews x 3
3 – 4
Yoga Nidra
4 – 5
afternoon tea, discussion, finish
Programme as usual. Closing time after morning tea or approx 11am.
Daintree Relaxation Retreat ACCOMMODATION
The ISSANI Meditation and Relaxation Retreat is hosted at the Ridge House at Noah Creek Reserve, immersed in deep ancient Daintree rainforest accessed via Cape Tribulation Road.
Accommodation is not included in the retreat price, however there is a range of accommodation at Noah Creek Reserve.
See the Noah Creek Eco Huts website for availability of all Noah Creek accommodation options.
Be sure to book early as Noah Creek Reserve is extremely popular!

There are many private huts at Noah Creek Reserve. Each hut has a double bed, that can also be set up as twin share accommodation on request. There is also accommodation at the Ridge House (see below) and another house on the premises The Lodge has two private bedrooms.
All Noah Creek Reserve accommodation has a two week cancellation period.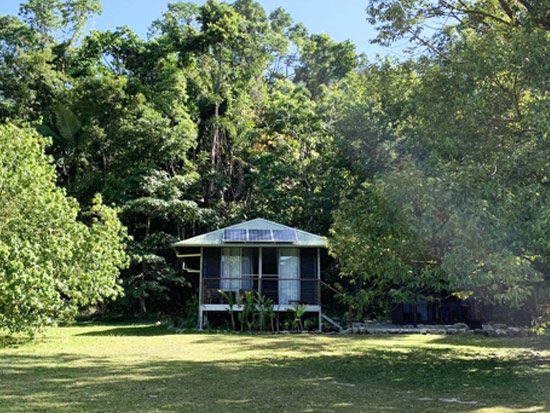 Ochre Hut
A larger hut with private kitchen, bathroom and stunning view. $275 per night.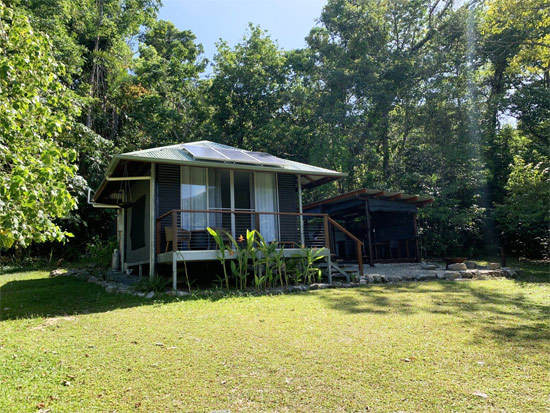 Bower Hut
A larger hut with private kitchen, bathroom and stunning view. $275 per night.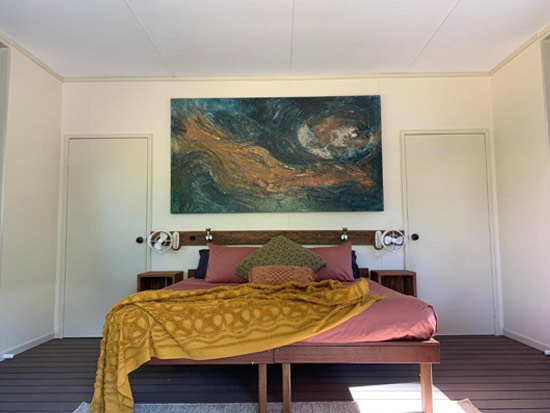 Other Huts
Eight slightly smaller huts with bathroom and shared kitchen amenities. $200 per night.
Stay at the retreat venue, Ridge House.
There are two sleeping spaces at Ridge House, each with four beds.
Prices below are for differing numbers of people sharing the room. Prices are per person.
Rooms are to be booked individually or can be shared with others you agree to share with.
Rooms will be allocated on a first come first served basis.
Please consider alternative accommodation elsewhere in Noah Creek Reserve if your are a loud snorer!
If the above accommodation options are not available, there are many nearby holiday rentals suited to a range of budgets. Issani can email a list of recommended accommodation options suitable for all budgets.
ISSANI Relaxation and Meditation Retreat FAQ
TERMS OF BOOKING: Payment is required in full. No cancellation fee 30 days or more prior to retreat start date. Money fully refunded or held as credit for a future retreat. 100% cancellation fee within  30 days of the retreat with an option to leave funds as credit towards a future retreat.